While at the encampment in the city of Bards Gate, the eyes of the party members fell on a peculiar looking pamphlet.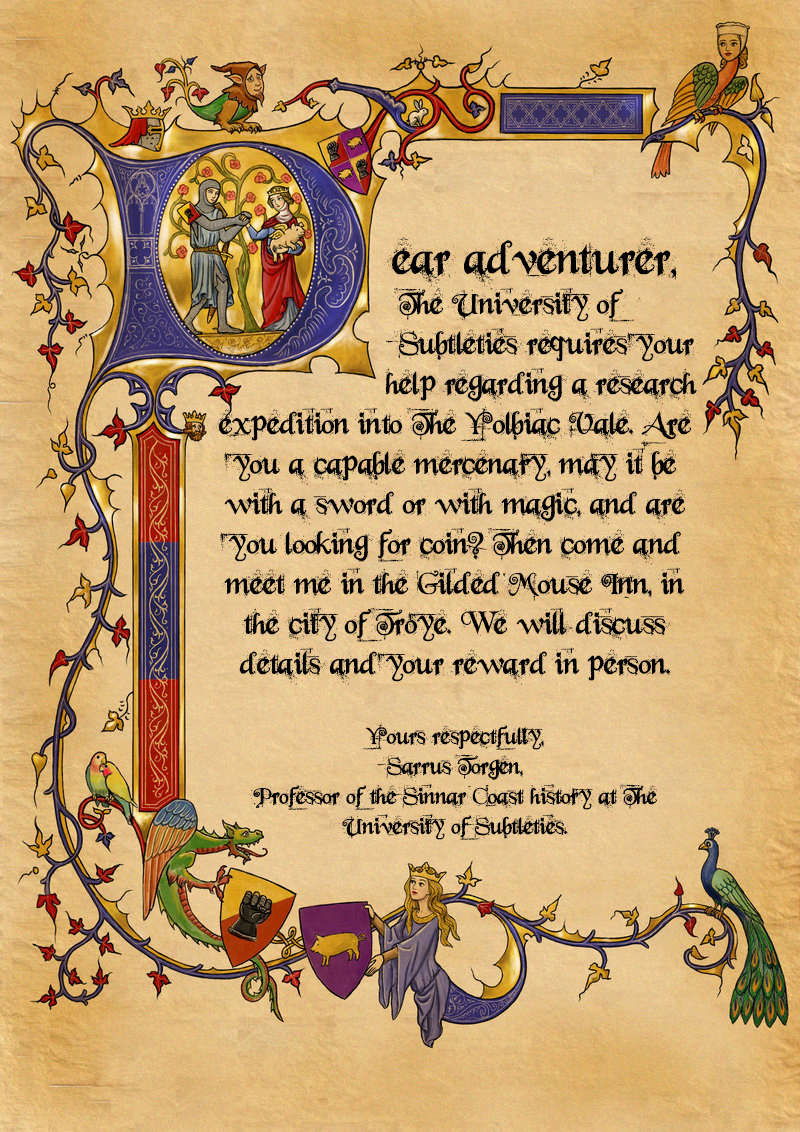 The party decided to take on the quest and venture to The Gilded Mouse Inn to meet with Sarrus Torgen.
Info
3-6 spelers
lvl 5
Combat/roleplay balance.
Mystery/horror.
[smiley]
https://imgfast.net/users/4117/66/35/16/smiles/4102159978.png[/smiley]



Posts

: 21


Join date

: 2018-03-07


Age

: 21


Location

: Ur mom



Samenvatting van sessie 1
tl;dr:
De party aanvaard een escort mission van een Sarrus Torgen, een geleerde bij de locale universiteit. Onderweg komen ze enkele merkwaardigheden tegen en schakelen ze een clay golem uit.
Also everyone moves between walk and run speed.
The cast
Whistle
Saber
Wu Jen
Samenvatting in bulletpoint form
De drie beste partyleden uit de groep in Bard's Gate zijn doorgetrokken naar Troye omdat ze te weten zijn gekomen dat een groep onderzoekers begeleiding nodig hebben. Ze hopen dat ze veel gaan verdienen..


Het team bevat niemand met echte combat skills, het zijn echt allemaal geleerden. Er is onder andere een 'neckbeard' bij: Drew.


De leider van de groep, Sarrus Torgen, is een beetje goedgelovig en wereldvreemd precies. Er is niet echt nagedacht over de reis buiten eten, drinken en vervoer. Over bandits, passage voorbij de Knights of the Swan en andere externe factoren is geen rekening mee gehouden.


De party besluit om Drew doorheen de reis te verbeteren. Results are mixed.


Onderweg komen ze een clay golem van de Knights of the Swan tegen dat de weg blokkeerd. De party verslaat hem te negeren en zijn externe control core te breken.


Drew's hentai wordt verbrand.


Ze komen 'snachts een gestoorde oude man tegen uit een klein dorpje. In dat dorpje horen ze veel vreemde verhalen en recruiten ze een extra fighter en druid. In ruil moet de party een kleine afwijking van de route maken en wat bandits clearen. De fighter geeft ook lessen aan Drew, die nu een asshole is.
Theme of the session:
Admin




Posts

: 35


Join date

: 2018-02-27




---
Permissions in this forum:
You
cannot
reply to topics in this forum